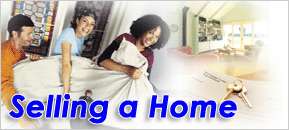 Selling your home is an involved process that affects your family and your future. Before you begin this process, you'll want to ensure you have the most up-to-date information. When should you sell? How do you get the best price? What kinds of renovations should be made prior to the sale?
These home selling reports will assist you in answering the many questions that arise during the home selling process. When you're armed with the right information, and an experienced real estate professional, you'll be closer to reaching your goal - selling your home fast, and for the best price.
Please contact me if you have any questions about selling your home.
Seller Contact Form
Contact Becky about selling a property
Ready to Sell
Get Your Home Ready To Sell
Seller Questions
10 Questions to Ask Becky, Your REALTOR®, about Selling a House
Seller Signs
Top 10 Signs That It's Time to Sell Your Home
Sell Step 1
10 Steps to selling a home
Agency Report
Should I Work With A Buyer's Agent? A Seller's Agent? A Transaction (Dual) Agent?
Moving Center
Tools from Monster Moving to make your move easier
Myths
10 Biggest Selling Myths Uncovered
Mortgage
Financial Mortgage Calculator